The only scientifically proven way to purify hay and reduce the health threat from respirable dust, mould spores and pathogens.
Respiratory Health
High-temperature steaming reduces airborne respirable dust in hay and haylage by up to 90%. This helps avoid damaging exposure to respirable dust and acts a long term preventative to inflammation.
Hydration
Steaming hay is a great way to increase water content to offset dehydration. Depending on water content and maturity of the forage, steaming can increase the water content by almost 3 times.
Skin
Forage is the largest portion of a horse's diet and can also be the biggest source of skin allergies. In reducing the amount of dust, mould, fungi and bacteria in forage can help horses that are sensitive or suffering from allergies.
Digestive Health
Steamed, clean, palatable forage encourages horses to eat forage they are given. This means less waste for you and savings in the long run. Also, in removing up to 99% of dust, mould and fungi in forage, the horse's digestive tract is not exposed to these potentially harmful pathogens.
Palatability
Four independent palatability studies demonstrated that steamed hay was more palatable and on most occasions the preferred choice over dry hay and haylage.
Performance
Steamed forage benefits all the vital parts of the horse including the respiratory system, digestion system, hydration and diet. Reducing pathogens in forage results in a huge impact on performance as proven by many world-class riders, trainers and vets globally.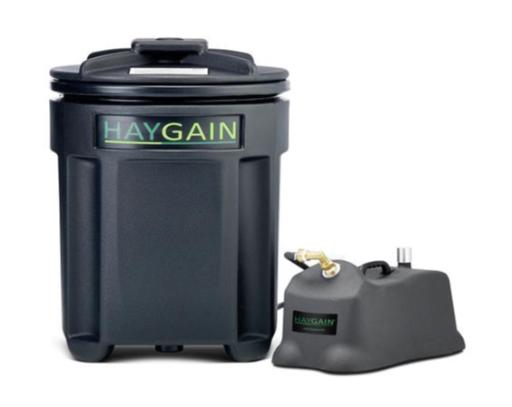 Haygain ONE
The ideal travel unit for shows and competitions.

Fits a 7kg haynet or loose wedges of forage

Feeds one horse, also great for the yard.
Contact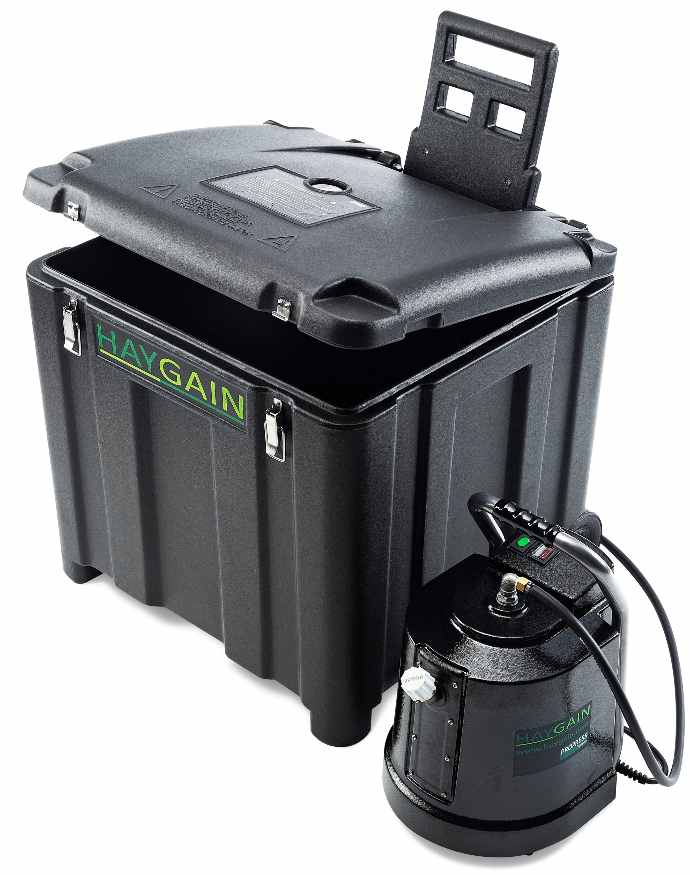 Haygain 600
The most popular Haygain model.

Feeds 2 - 3 horses

Holds up to 15 kg of forage in a haynet or loose wedges.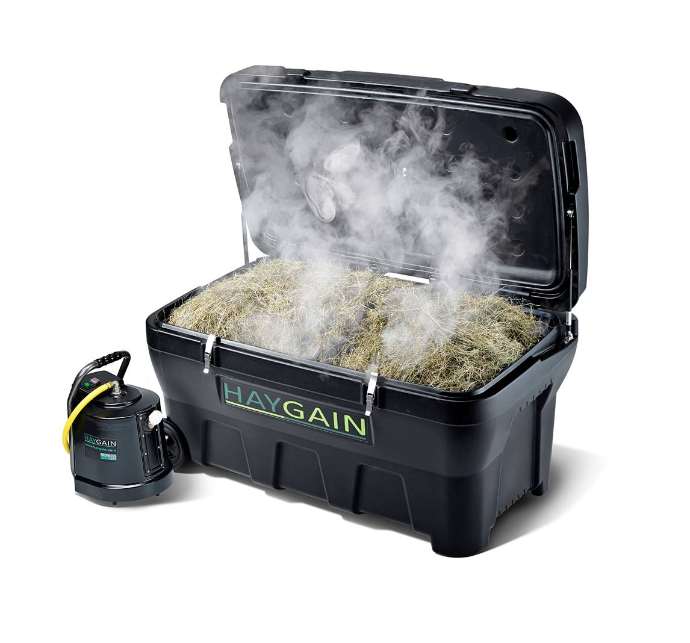 Haygain 2000
Powered by one boiler and two patented spiked manifolds

Feeds 4+ horses

Holds up to 35-40kg of forage or fully strung bale
Contact
Have you thought... what else will benefit stabled horses?
How does the Haygain Steamer work?
Developed and tested with The University of Bristol and The Royal Agricultural University. The Haygain steamer has three unique features.
Patented manifold system - designed in a deltoid configuration to injecting high-temperature steam into the hay resulting in even steaming throughout the entire bale.
Thermal double insulated chest - enables steam to reach and maintain ultra-high temperatures around 100oC. The aluminium manifold helps raise the temperature of the chest resulting in a high-efficiency unit.
Robust steam generator - ensures steam reaches 100oC to effectively kill mould, fungi, bacteria and reduce respirable dust particles by 99%.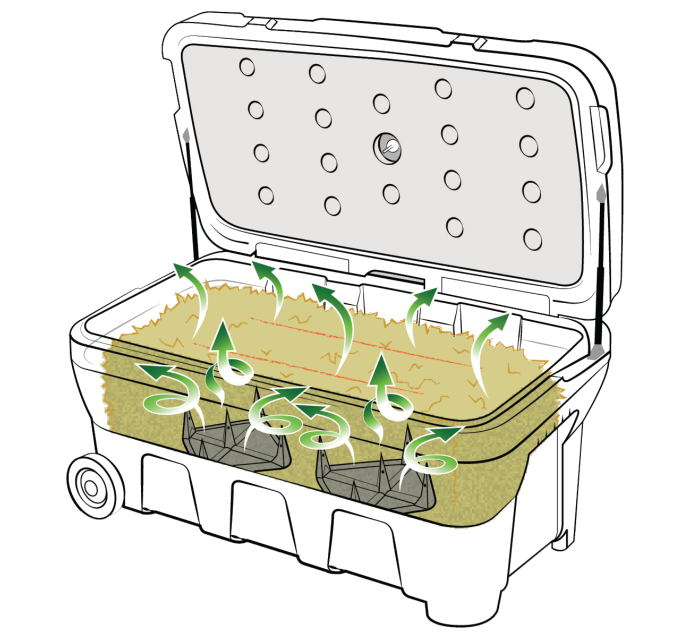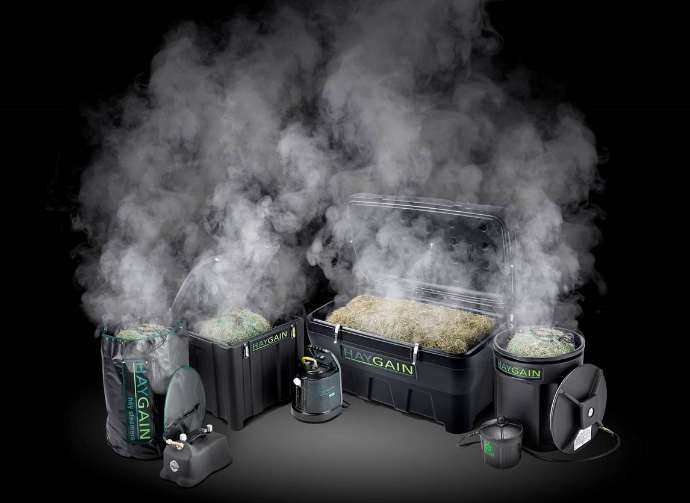 How does steaming fit into a daily routine?
Steaming hay with Haygain is very easy and takes about an hour to complete. The steamer can be fitted with a timer to turn off at the right time.
Steamed hay can be fed straight away or left in a Haygain Bale Bag or clean environment for 24 hours. This means you can steam in advance.
Want to give Haygain a try? We offer a "try before you buy" service so you can test the steamer is the right option for you. Arrange a trial with us.
"We all know that dry hay - even of the best quality contains dust that affects horses' respiratory system. So to be sure my forage is clean, and free of any dust or spores, I use Haygain."

It has made a huge difference, we have a 21 yr old TB on it, who 3 years ago was on ventapulmin for a cough, since being on steamed hay, we have not needed anything for her. We are really pleased with the steamed hay. The horses are happy and healthy. I wouldn't go back or change it, it makes life a lot easier, especially when we do not need to soak hay, the yard also smells nice!"

"Newmarket Equine Hospital has had a Haygain hay steamer at the hospital since 2009. It is in regular use providing steamed hay for in-patients either at the owner's request or where it has formed part of the clinical management of a horse. We have found it particularly useful in the production of a soft and highly palatable dust-free forage source."

Your Dynamic Snippet will be displayed here... This message is displayed because you did not provided both a filter and a template to use.